High Fidelity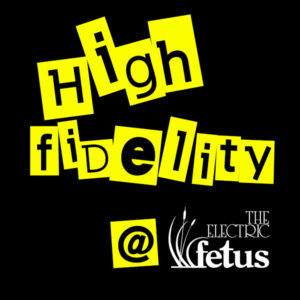 When Brooklyn record store owner Rob finds himself unexpectedly dumped, his life takes a music-filled turn toward the introspective. Based on the popular novel by Nick Hornby, High Fidelity follows Rob as he struggles to discover how his relationship went awry, and strives to change his life in order to win back his sweetheart Laura. With memorable characters and a rock-and-roll score, this homage to music geek culture explores love, heartbreak, and the power of the perfect soundtrack.
May 4th-20th
Rob: Taras Wybaczynsky 
Laura: Jorie Ann Kosel
Barry: Cameron Reeves
Dick: Maxwell Ward
Ian: Charlie Morgan
Liz: Dorothy Owen
Marie: Zarah Nesser
Bruce: Paul Hoselton
Anna: Amanda Mai
Ex-Girlfriend Alison: Gianna Schiller
Ex-Girlfriend Jackie: Colee Ludtke
Ex-Girlfriend Penny: Maggie Mae Sulentic
Ex-Girlfriend Charlie: Sarah Adams
Ex-Girlfriend Sarah: Yvonne Freese
Director: Sara Pillatzki-Warzeha
Vocal Director: Christian Unser
Music Director: Amanda Weis McGivern
Inspired by the setting for the musical, High Fidelity will be staged for a limited run in May 2018 inside The Electric Fetus, the iconic Minneapolis record store established in 1968. This immersive theater experience, where audience members will be inside a real record store with the production surrounding them, is a first for both Minneapolis Musical Theatre and the Electric Fetus.